The university's academic logo should be used as an institutional identifier on all print and electronic communications, preferably on the front and/or back cover of printed publications, including brochures, fliers, posters, ads, postcards, stationery, letterhead and business cards.
Logo Guidelines
No alterations should be made to the logo; it must be reproduced from officially approved master artwork. Avoid re-creating any versions of the university logo; do not use scanned or poor-quality reproductions. The logo may be reversed out on a large solid background but should not be placed over a busy, patterned background. Do not add special effects, shading, outlines or animations. Do not enclose the logo in a circle, oval or square. Do not use athletic logos on stationery or on publications that relate to academic or research programs. For information on athletic or spirit logos, contact pmarcell@unca.edu in Athletics.
You must be logged in to your UNC Asheville email account to access these downloadable logos. If you have questions about logo usage, or you need a version that isn't provided here, please email communication@unca.edu with your request.
Downloadable Logos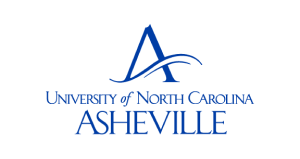 (White text on transparent background)

(White text on transparent background)