Communication & Marketing works with many different vendors to create print, signage, and promotional materials.
Let us know at communication@unca.edu what you'd like produced and/or what event you're looking to supply and we can help with any step along the way. We can start with design or work with your existing design and recommend vendors, help you seek out price quotations, and ensure you meet our university purchasing guidelines.
Some options include:
Banners
Signage
Posters
Tablecloths
Stickers
Promotional Items
---
Stationery Items
Departments can now order stationery items, including business cards, letterhead, envelopes, and simple notecards and notepads by visiting our new Stationery Ordering Portal. 
This new stationary ordering system will provide consistent pricing and easy ordering of these stationery items with Clark Communications for the next 3+ years under IFB 64-779 per a competitive process. The full list of items available under this contract are detailed below. All orders that meet these specifications should be ordered through Clark Communications until the contract expires. 
On the new Stationery Ordering Portal, you'll create a new account or login to start your order. You will be able to review a live proof before printing. Stationery orders take approximately one week to complete. An invoice will be emailed to the account's email and acctspayable@unca.edu. Invoices are payable by check request once received. Since we are under an exclusive contract, orders that exceed $1,000 do not require a PO. A pricing sheet is available for quick reference. 
There will be a short beta period where items will automatically go through Communication & Marketing for approval—this is simply to check that the templates are working correctly. 
If for any reason these templates do not suit your needs or if you have any questions about the new ordering portal or stationery items, please reach out to communication@unca.edu. If you have questions about the payment process, please contact Mark Westergaard at mwesterg@unca.edu. 
Go to the Stationery Ordering Portal
Business Cards
UNC Asheville's branded business card template should be used for all university employees. No alterations may be made to the design unless approved by Communication & Marketing. If you need Athletics- or University-affiliate business cards, please contact communication@unca.edu for assistance.
---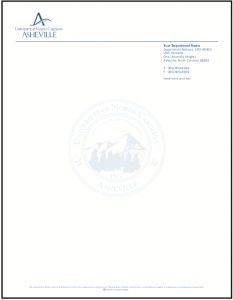 Letterhead
UNC Asheville's branded letterhead can be used for all official printed communications. The letterhead includes the watermark of the University Seal and standard paper stock or formal, textured paper stock is available. You may also choose to include department or employee contact information. No alterations may be made to the design unless approved by Communication & Marketing.
For digital letterhead in Word format, see Downloadable Resources.
---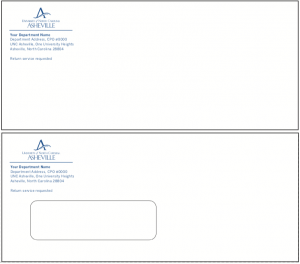 Envelopes
UNC Asheville's branded envelope templates may be used for official printed communications. Templates are available for standard #9, #10, or #10 Window envelopes.
---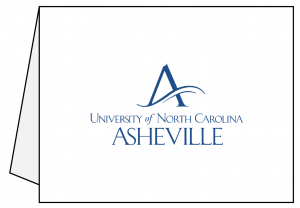 Notecards
UNC Asheville's branded notecard template may be used for official printed communications. A2 (4 ¼" x 5 ½") or A7 (5" x 7") size notecards are available in this simple design, including the university logo on the front with a blank interior. Coordinating envelopes included.
---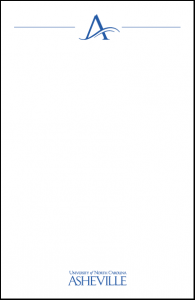 Notepads
UNC Asheville's branded notepads may be used for giveaways or office use. Notepads are 8.5″ x 5.5″ with 50 sheets per pad and board backing.