UNC Asheville Communication & Marketing provides publicity for events that are open to the public, hosted by a University-department and expected to attract an audience of 50 or more attendees.
To start, please book your event through Highsmith Student Union, which is the first point of contact for event spaces across campus.
Once your space is reserved, contact us with the details for publicity. Please complete the event promotion form. This form must be completed by a UNC Asheville faculty, staff, or student. If you are an outside organization hosting an event on campus and interested in connecting with Communication & Marketing on publicity, please contact communication@unca.edu. A facility use agreement must be completed with the University before publicity can proceed. 
If your event is primarily for students, please contact Highsmith Student Union to get it listed on the UNCA Now app.
Many of our services are available at no additional cost to the event organizer or department and can increase attendance at your event and encourage engagement from students and the Asheville community. We focus on events that exemplify the University's core values of sustainability, innovation, and diversity and inclusion, build upon the University themes each semester, bring thought leaders to campus, connect with prospective students and their families, sustain community partnerships, and contribute to scholarship funds and campus priorities.
Getting the Word Out About Events
We require at least two weeks notice to post an event on the University Events Calendar. Events received six weeks in advance may receive additional complimentary publicity in the monthly events newsletter, media placements, social media posts, and digital signs around campus, as well as consideration for advertising in AVLToday and Blue Ridge Public Radio. 
Paid print advertising and digital marketing campaigns are also coordinated by Communication & Marketing, upon request. These campaigns start with a minimal budget of $250.
Examples:
UNC Asheville Communication & Marketing worked with the Biennial Queer Studies Conference to increase interest and attendance by 50%.
"Overall, we feel great about it. We had 378 folks register from literally all over the world. Each session had ~10-40 folks attend synchronously," said co-organizer Jordan Perry. "We had 118 folks registered to attend in person in March 2020 and 232 in April 2018 so definitely more interest than in previous years."
Publicity included campus emails, mentions in The Weekly Wag employee newsletter, Around the Quad student newsletter, and OLLI newsletter, event sends to the media, ads in AVLToday and through Blue Ridge Public Radio, a highlight in the University Monthly newsletter, a dedicated news release, and an Original Minds video.
UNC Asheville Communication & Marketing amplified faculty research to reach an international audience. The January 21 Research Presentation: PTSD Symptoms in Professional Firefighters was shared via news release, events calendar posts, and campus newsletters, resulting in advance mention from AVLToday and coverage by the Asheville Citizen-Times. Breman Professor of Psychology Evelyn Chiang said:
"I just wanted to say thank you for all your efforts in getting the word out about our presentation. We had 80 people attend yesterday. People zoomed in from all over the country, and Canada! We also had lots of local folks attend."
The first Turning of the Maples 5K generated nearly $3,000 in support of student scholarships and University initiatives. For this inaugural event, UNC Asheville Communication & Marketing developed a new graphic design that will carry the tradition forward, established an event hashtag, shared on social media and events calendars, and promoted through AVLToday, the University Monthly Newsletter and Alumni Newsletter to reach Bulldogs and Bulldog supporters near and far. It was featured in the Capital At Play newsletter, Blue Ridge Outdoors online calendar, and Carolina Runner.
"We also brought this special tradition to alumni, family, and friends across the country through the inaugural Turning of the Maples Virtual 5K," said Associate Director of Alumni Relations Colleen O'Neil. "In addition to raising nearly $3,000 in support of the UNC Asheville Fund, 170 members of our Bulldog family walked, jogged, or ran 805K (527 miles) together!"
Event Design Samples
Click the images below for PDF versions.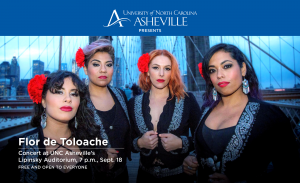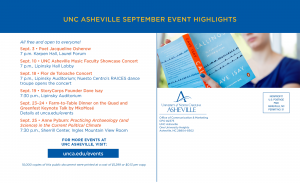 Event organizers may also submit their own designs for fliers, but these designs must adhere to the University brand guidelines.